We love the compressors that we deliver to our customers. We offer after-maintenance care to our customers for their all-important compressors with the technical capabilities and speed directly transmitted from the manufacturer (TANABE Pneumatic Machinery Co., Ltd.). For compressors that have been delivered to countries all over the world, we have established a system that allows us to arrive anytime, anywhere as soon as possible.
We work with whole-hearted devotion, thinking about the "services that will impress our customers", so as to accurately capture our customers' requests and needs that we receive from our service activities and service representatives and to reflect them in product development and daily maintenance services.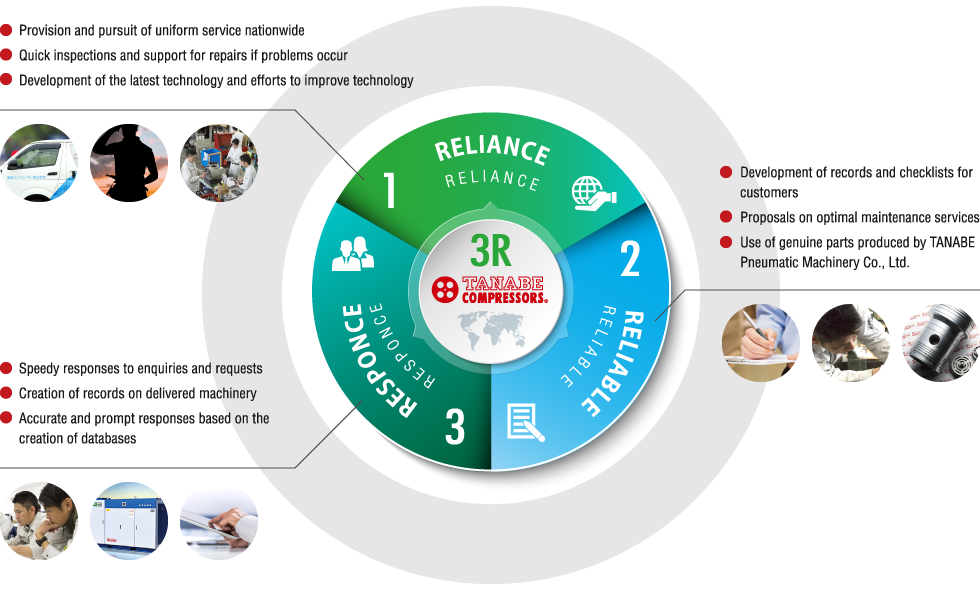 Daily inspections must be carried out diligently on compressors that have been purchased in order for them to be used safely and comfortably. Periodic inspections can also significantly extend the lifespan of compressors. Please leave it up to the professionals to conduct periodic inspections and regular open inspections as required by law.
Daily inspections are the deciding factors in preventing faults. Be sure to check your equipment every day.
Inspection 1

Is there enough oil? Use an oil gauge to check.

Inspection 2

How is the machine? Use instruments to check.


(Pressure, oil pressure, water pressure, current, alarm lamps, other)

Inspection 3

Are there any leakages of oil or coolant on the floor of the machine or around the machine?

Inspection 4

Is the machine making any sounds that are different than usual?


(Air leakage, machine operation sounds)

Inspection 5

Is it time for regular maintenance? Check the operation hour meter.